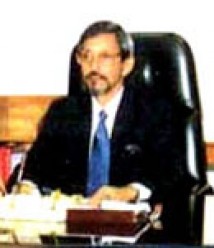 Mr. Syed Yusuf Hossain
1999-08-08 to 2002-02-04
He had served in various government offices as:
Deputy Secretary in the Ministry of Defence.
Member, Rural Electrification Board
Joint Secretary, Ministry of Industries.
Managing Director, Bangladesh Film Development Corporation.
Director General, Bangladesh Management Development Center.
Chairman, Bangladesh Textile Mills Corporation.
Additional Secretary, Ministry of Industries.
Secretary, Ministry of Cultural Affairs.
Secretary, Ministry of Defence.
He had received extensive training at home and abroad specially on General Public Administration, Rural Electrification Distribution System, Advanced Management Programme, Industrial Management System,

He led/participated in several international seminars/investment, business, governmental delegations to several countries.

He visited many countries of Asia, Africa, Europe, America.

He was involved in many socio-cultural and sports organizations and multinational organizations during his long career in government service.

He initiated a number of reforms initiatives for modernization and improvement of the activities of SAI Bangladesh. He relinquished the charge of CAG on 4th February, 2002.