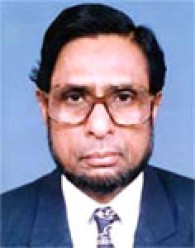 Mr. M. Hafizuddin Khan
1996-04-03 to 1999-08-07
Mr. M. Hafizuddin Khan joined as the Comptroller & Auditor General of Bangladesh on 8th August, 1996.
He was born in 1939.
He obtained his B.A (Hons) and MA in Political Science.
Mr. Khan joined the erstwhile Pakistan Railway Accounts Service in 1965 and held important positions in government audit.
He was selected as Deputy Secretary in 1977 and worked in that position for about 6 years.
He served as Director (Finance), BRDB from October 1979 to October 1982.
He became Joint Secretary in1983 and served in the Ministry of Works, Internal Resources Division and Ministry of Local Government.
He served as Member-Director (Finance), BADC from January 1987 to October, 1988.
He served as Additional Secretary in the Prime Minister's  Office.
Mr Khan was promoted to the rank of Secretary in 1994 and served as Secretary in the Ministry of Disaster Management & Relief and in the Ministry of Post and Telecommunications  before his joining as the Comptroller & Auditor General of  Bangladesh.
Mr. Khan had received extensive training at home and abroad in public administration.
He led/participated in a number of seminars/ workshops in various countries, namely, Philippines, Malaysia, Kenya, Nepal, Indonesia, Thailand,, Geneva, Iran, Pakistan, USA, India, Canada and UK.