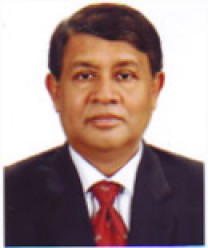 Ahmed Ataul Hakeem
2008-02-12 to 2013-02-11
Mr. Ahmed Ataul Hakeem joined the Bangladesh Civil Service: Audit and Accounts Cadre in March 1979.

During his career in the Civil Service, Mr. Hakeem worked in both accounts offices and audit directorates of the Audit and Accounts Department. After the introduction of Departmental Accounts system through the newly formed offices of the Chief Accounts Officers for the Ministries, he became the first ever Chief Accounts Officer of the Government of Bangladesh.

Mr. Hakeem worked as the Director/Deputy Secretary in the Budget Wing of the Finance Division, Ministry of Finance from 1991-1997. He became the Director General of Audit Department in 1997 and was head of Financial Management Academy (FIMA) for 5 years. He also carried out duties as Director General Civil Audit Directorate. In 2004-2005, he was posted as the Deputy Comptroller and Auditor General (Senior) at the Office of the Comptroller and Auditor General of Bangladesh. Prior to his appointment as the 10 th Comptroller and Auditor General of Bangladesh, he served as the Controller General Defence Finance of the Ministry of Defence.

Mr. Hakeem is married, has a son and a daughter.