Print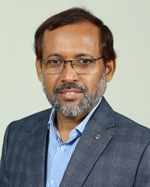 Md. Mahbubul Hoque

From: 2021-02-14

Deputy Comptroller and Auditor General (Senior)

Rural Homestead: Feni

Education:
Mr. Hoque obtained his undergraduate and graduate degrees in Accounting from the University of Dhaka. Additionally, he attained a Master's degree in Management Information Systems from the City University of New York, USA. He has also completed a Certificate course on International Audit from Nanjing Audit University, China.

Professional Experience:
Md. Mahbubul Hoque joined the office as the Deputy Comptroller and Auditor General (Senior) on 14th February 2021. He was appointed in the Bangladesh Civil Service (Audit and Accounts) in 1991 and has since held various positions in the Government.
Before joining his current position, Mr. Hoque served as the Deputy Comptroller & Auditor General (Accounts & Report). He has also worked in the Government in various capacities, including Director General of PTST Audit Directorate, Deputy Comptroller & Auditor General (Procedure), Senior Finance Controller (Defence Purchase), Finance Controller of Bangladesh Ordinance Factory, Addl. Deputy Comptroller and Auditor General (Parliament), Director of Commercial Audit Directorate, Director of Local & Revenue Audit Directorate, Second Secretary & Head of Chancery of the Bangladesh Embassy in Tripoli, Libya, Senior Assistant Secretary of the Ministry of Foreign Affairs, and Assistant Chief Accounts Officer of the Ministry Foreign Affairs, Dhaka.
Mr. Hoque also worked in various capacities with international organizations and projects. He served as a consultant (Financial Management Specialist) in the World Bank, Dhaka office. He also served as Additional Project Director, SPEMP-B Project and Additional Project Director of SCOPE (Strengthening Comptroller & Oversight of Public Expenditure) Project. He worked with PROGOTI and Strengthening PAC Project as well.
Beyond his Government appointed positions, Mr. Hoque worked as Marketing & Finance Manager in the Message International, New York, USA. He has also held academic positions as part-time MBA faculty in Northern University, Bangladesh, and Accounting lecturer in Dhaka City College. Mr. Hoque continues serving as a guest lecturer at different renowned professional training institutions of Bangladesh, including Financial Management Academy (FIMA), Foreign Service Academy, and BSC Admin Academy.
Md. Mahbubul Hoque was born on 1st December 1963 in Feni, Bangladesh. His wife, Mrs. Nahid Sultana, is the Country Director of Zakat Foundation of America, Bangladesh. Together, they have two sons and a daughter.