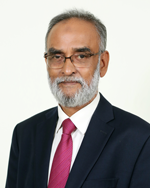 Mohammad Muslim Chowdhury

From: 17-07-2018

Comptroller and Auditor General of Bangladesh 

Rural Homestead: Chattogram


Education:
Mr. Mohammad Muslim Chowdhury holds a Master of Science (MSc) in Finance and Accounting with distinction from the University of Birmingham, UK. He graduated with a Bachelor degree in Commerce with Honours and Master of Commerce in Accounting from the University of Chittagong, Bangladesh.

Professional Experience:
Mr. Chowdhury, 12th Comptroller and Auditor General of Bangladesh is a highly accomplished person with an illustrious career in the civil service spanning across 33 years. Having an in-depth and broad-based knowledge and experience on matters of Public Financial Management, Administration and Governance, he was a member of Bangladesh Civil Service (Audit and Accounts Cadre) 1984 batch. Prior to assuming the office of Comptroller and Auditor General of Bangladesh on 17th July, 2018, Mr. Chowdhury was Finance Secretary. Before his elevation to the position of Secretary to the Government of Bangladesh, he had served as Deputy Secretary, Joint Secretary and Additional Secretary in the Finance Division, Ministry of Finance. He had also held various positions under the Office of the Comptroller and Auditor General, Controller General of Accounts and Controller General Defence Finance.
During his long and illustrious career in the civil service, Mr. Chowdhury had pioneered the Public Sector Financial Management Reform and was awarded the "Jana Prashashan (Public Administration) Award, 2017" for his contribution to the improvement of Public Service delivery system. He was passionate about introducing eGovernance in Finance and engaged in a supervisory role at the IFMIS (iBAS++) development and implementation process. He led from the front in the development of "Government Pensioners Database" and "Government Employees Database" which brought discipline in the Government Pension and Salary management. He was actively involved in the initial formulation and implementation of PPP Framework in Bangladesh and drafted the PPP Strategy and Policy issued by the Government of Bangladesh. He had steered the formulation of New Budget and Accounting Classification System (BACS) in the Government planning, budgeting and accounting from Fiscal Year 2018-19.
Mr. Chowdhury was instrumental in streamlining the Public Debt Management System and had played an active role in designing 5,10,15,20 Years Treasury Bond (G-Sec) that brought discipline in the Long term budget financing and paved the way for Debt Market Development. Mr. Chowdhury had initiated the process of transferring money directly to various safety net beneficiaries' accounts including government pension payments through G2P mode that brought revolutionary improvement in the public service delivery system. He had steered the process of formulating the draft of the Financial Reporting Act, 2015, an Act promulgated to streamline the process and bring discipline in the Financial Reporting and Auditing practices of Public Interest Entities (PIEs).
Mr. Chowdhury has introduced the innovative idea of Automated Challan (A-Challan), a Web Portal for receiving government receipts (Tax & Non-tax) through any bank/any branch, online or through Mobile Financial Service (MFS). For government payments, EFT/MICR cheques are being used across the board under his able leadership and guidance. These innovations have created a great comfort zone for Taxpayers in terms of hassle free service, saving time and energy. Now, all government receipts and payments hit the Treasury Single Account (TSA) maintained with Bangladesh Bank almost on a real time basis that brought a profound improvement in the overall PFM, specifically in the area of Cash Management, Fiscal Reporting, Financial Reporting, Internal and External Audit.
His departure from the Finance Ministry in the wake of his taking Oath as Auditor General marked with a Cabinet Resolution passed by the Cabinet in its meeting acknowledging and thanking him for his sincere and dedicated service to the Nation spanning over 32 Years which was published through a notification in the Official Gazette on July 16, 2018.

As a Consultant, Mr. Chowdhury worked in the PFM reform area with World Bank and DFID funded projects. In the past, he worked as Director on the Board of Directors of Bangladesh Bank, Bangladesh Krishi Bank, Sonali Bank Ltd. (also was acting Chairman), Bangladesh Biman, Titas Gas Transmission and Distribution Company Ltd., Eastern Refinery Ltd., Infrastructure Development Company Limited (IDCOL) and Dhaka BRT Company Ltd. He was also a member of Judicial Service Commission (JSC), Council Member of ICMAB and National Heart Foundation. He was the first MD and CEO of the Government-owned largest Infrastructure Financing Company, BIFFL. He worked as Director to the Board of Directors of SAARC Development Fund (SDF), Headquartered in Bhutan. He was also a Deputy Chairman of the Saudi Bangladesh Industrial and Agricultural Investment Company Limited (SABINCO) and Vice-Chairman of Islamic Development Bank-Bangladesh Islamic Solidarity and Educational Wakf (IsDB-BISEW).
He is a widely travelled person and has visited countries like USA, UK, Canada, Belgium, Denmark, France, the Netherlands, Sweden, India, Pakistan, Malaysia, Indonesia, Sri Lanka, Cambodia, Nepal, Japan, Bhutan, Singapore, the Philippines, Saudi Arabia, UAE, China, Hong Kong, Myanmar, Kenya, Morocco, Peru, Germany, Austria, Fiji, Australia, Thailand, Kuwait, Vietnam, Russia, Ethiopia and Turkey.
Mr. Chowdhury was born in a respected noble Muslim family of Chittagong. In his personal life, he is married. His wife Mrs. Sabina Haque is a teacher by profession. They are blessed with two daughters.
Contact:
Office of the Comptroller and Auditor General of Bangladesh
Audit Bhaban, 77/7 Kakrail
Dhaka -1000, Bangladesh.
Tel.: + 880 2 222220767
Fax: + 880 2 4831 2690